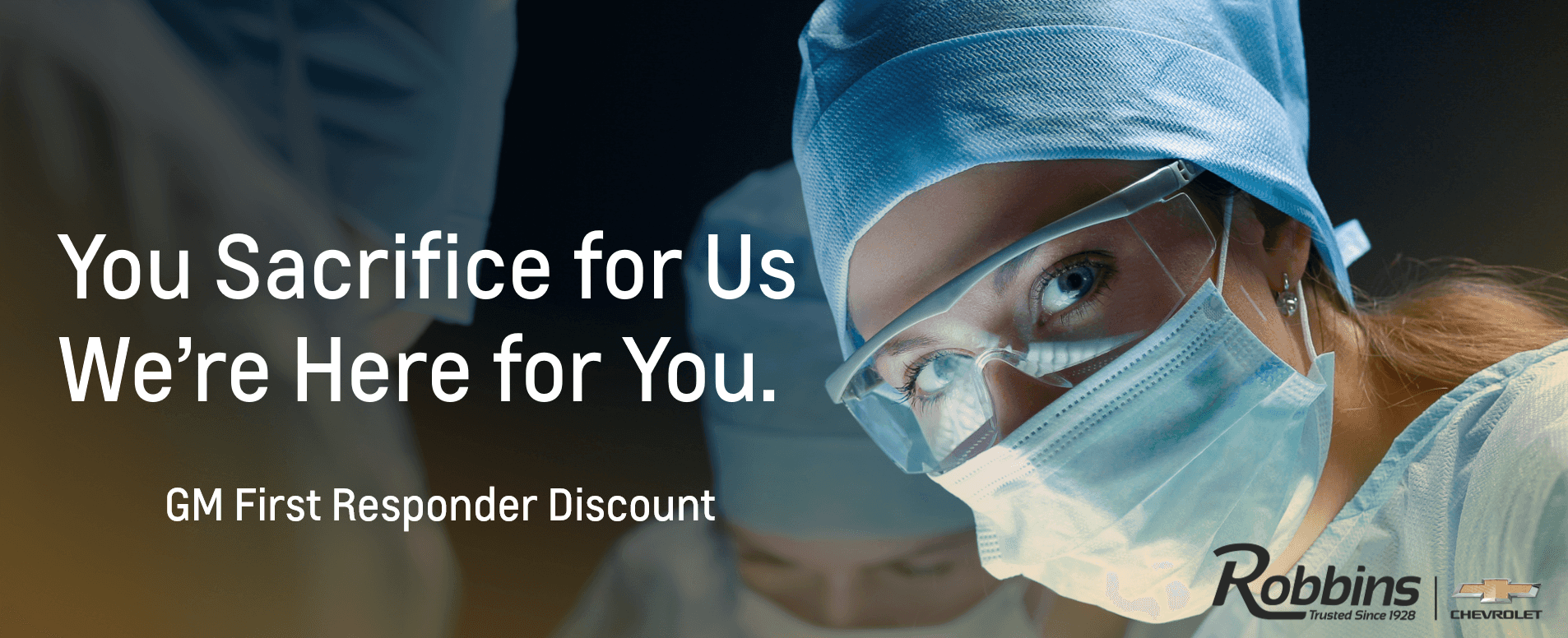 What is the First Responder Discount?
The GM First Responder Discount allows you to save thousands of dollars in addition to other incentives available on a new Chevrolet. The discount is available on all models, excluding base level trims. Because pricing and incentives change often, we haven't listed exact details on this page. If you want to know the incentives and first responder discount on a particular model or stock number, please contact us and we'll provide the info.
You put your life on the line for us, it's the least we can do to make sure you get a great deal on a safe and reliable vehicle.
Do I qualify?
If you're a firefighter, police, EMT, Paramedic, doctor, nurse, or other healthcare professional, you're eligible for the GM First Responder Discount. If you're not sure if your position qualifies, send us a message or visit this page to be sure.
How do I prove my eligibility?
First Responders are grouped into two separate categories: (1) Police, Firefighters and EMTs/Paramedics and (2) 911 Dispatchers and Healthcare Professionals.
Police, Firefighters and EMTs/Paramedics are required to register and sign in through ID.me. You'll need to save the authorization number you received when creating your account.
911 Dispatchers and eligible Healthcare Professionals are required to follow the standard registration and sign-in process on the first responder website here. You'll need to save the authorization number you received when creating your account.
What do I bring to the dealership?
Everyone should bring a current driver's license and insurance card to begin the purchase process.
Additionally, you'll need to bring the Authorization Number you received when creating your first responder account (see eligibility above).
Firefighters, Police and EMTs/Paramedics: Once you've logged onto our site through ID.me, your identity will be verified, which means you'll no longer be required to provide proof of eligibility at the dealer. However, you must still take your authorization number — along with a copy of your driver's license with the license number redacted — to your dealer when you're ready to purchase or lease a new vehicle.
If you're a 911 Dispatcher, you should bring a valid, current 911 training and education document or a 911 ID card that contains your full name.
If you're an eligible healthcare professional, you should also bring a copy of your ID/badge or a copy of a current pay stub (within the last 30 days) with all information redacted except the date of the pay stub, your name and your employer.
Have questions or need help with the program?